The latest qodeo News, Announcements and Events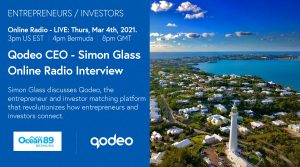 Simon Glass (Qodeo CEO) with Shelly Thunder (Ocean 89 Radio presenter) and Jamillah Lodge (The Bermuda Economic Development Corporation) discuss the ways that the Qodeo platform revolutionises how Investors and Entrepreneurs connect.
Read more
The start of a beautiful new relationship
Get started with qodeo today
Qodeo marks the end of the needle-in-a-haystack approach to finding investment. It increases the odds of a perfect match, cutting through the noise to connect the smart money to the right opportunities in record time.